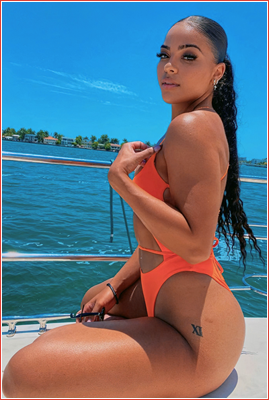 Dec 3, 2010
54,940
9,008
115
WWE No Mercy 2003
Baltimore
WWE Champion: Brock Lesnar
WWE U.S. Champion: Eddie Guerrero
WWE Tag Team Champions: Los Guerrero's
WWE Cruiserweight Champion: Tajiri
Pretty Epic video package to open the show, just a shame I still give -99 fucks about the Father/Daughter match.
WWE Cruiserweight Championship: Rey Mysterio vs. Tajiri
Cole says Noble and Rey are buddies and say's don't be surprised if Noble gave him a call saying give him one for me
wat! I can just picture it now, redneck Noble and Rey speaking Spanish on the phone
Real good feeling out process to start, as Rey targets the knee with some great unique holds but Tajiri counters and works the arm. It's just a shame neither man really sells, as they are two of the best at it. After some cool spots, Tajiri counters an Old School type of move and drops Rey arm/shoulder first onto the top rope. That allows him for the 2nd time to target the arm and bend it and better yet kick the living shit out of it. Rey's comeback is great as usual but it just pisses me off that he just refuses to sell the arm and just dive all over the ring like the match just started. Cool spot sequence, with Tajiri goes to throw Rey to the floor but instead Rey counters with a 619 to the gut, but when he goes for the West Coast Pop, Tajiri catches him in mid-air for the powerbomb for two. Seconds later Tajiri elevates Rey overhead but Rey leaps to the top rope and connects with a moonsault for two. The match would end when Rey hits the 619 and as he hits the West Coast Pop and covers for the pin, two Japanese marks hop the rails causing the ref to stop the count allowing Tajiri to hit a sick kick and cover for the win. Damn good opener. **3/4 - ***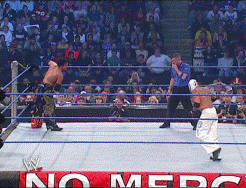 Backstage: Vince McMahon is interrupted by Josh Mathews, who asks him a stupid question, and Vince say tonight is personal business and he knows people are rooting against him and if anyone who interferes tonight will no longer be employed. Not just in the WWE but ever
A-Train vs. Chris Benoit
5 seconds into the match A-Train says Benoit ain't shit and won't do nottin'
that leads to some vicious strikes with Train using the power to keep throwing Benoit to the floor. Benoit would use the quickness to stick and move but Train gives no fucks and hits him harder. I love that this is just a back and forth fight, stiff shots and clubbing blows. Amazing bicycle kick leads to Train gaining the advantage who begins to viciously go after the neck. At one point he ties Benoit arms up and begins to clobber the shit out of the neck with short lariats. I love that Benoit just would quit any time Train would leave an opening Benoit would kick, punch or chop from off him back. That would piss Train off and Train would hit this fuckin' amazing looking chest breaker that would lead to Benoit having a bloody nose and blood out the mouth
Benoit's selling was tremendous, as always, and that aided in making Train's offense look even stronger. Train did a good job heading off Benoit's comebacks but things almost got ugly when Train pressed Benoit over his head and then dropped him awkwardly on a chair. That further killed millions of brain cells, Benoit shakes it off and locks in the Crossface, but at soon as Train gets to his feet Benoit hits the triple Germans and the crowd is awake
He heads up for the Headbutt but Train throws him to the mat and runs right through him. Double Chokebomb gets two but when he goes for a boot his foot collides with the steel chair allowing Benoit to lock in the Sharpshooter and Train is forced to tap
this was fuckin' awesome. ***1/4 - ***1/2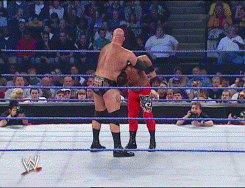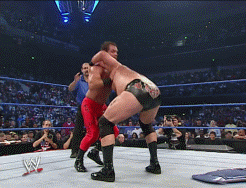 Backstage: Matt Hardy is looking for his piece of shit MF'er when he finds Heidenreich attempting to murder Shannon Moore when Matt Hardy breaks it up. Heidenreich says they were supposed to give his tryout tape to Stephanie. Matt says it was a mistake Little Johnny made when making it, because it was a tape of Shannon Moore's matches. Heidenreich lets go, and asks if it's true. Matt says it's true and they'll give the new GM a tape if he gives them one. He says he'll go talk to Little Johnny. UGH!
Zach Gowen vs. Matt Hardy (w/Shannon Moore)
Mattitude.com says, Matt cannot be grossed out, Matt has survived five car wrecks. Didn't Gowen get thrown down a flight of 30 steps like 2 weeks ago. How is he still alive, let along limping his crippled ass down the ramp. Gowen no longer is taking insane bumps trying to get himself killed so he further shows his uselessness to life. Matt did what he could, and Zach would hit a moonsault for the win. *1/2
Backstage: Linda storms into Vince's locker room to try and talk him out of the match tonight. He refuses, but meets her halfway saying Stephanie can now also win by pinfall. So I guess it's not an I Quit match anymore?!?!?! Vince then makes it No DQ as well. SINCE WHEN DID I QUIT HAVE RULES?!?!?! WHY ARE YOU DOING THIS TO ME.? AHHHHHHHHHHHHHHHHHHHH!
The Basham Brothers vs. APA
NO! NO! NO! Why are you doing this to me? Bradshaw hot tag was the highlight until Ratchet Shaniqua returns with some cheap boobjob allowing the faggot twins to win. FUCK MY LIFE! FUCK THIS SHOW! EVERYTHING HAS GONE TO SHIT! Only 4 months until the debut of JBL
still fuck this.
Backstage: Shaniqua and her far apart new tits tells the faggots, the Clothesline from hell made her tits swollen and the doctor said it's permanent HAHAHAHAHAHAHAHAHAHA! I take it all back, greatest gimmick ever.
Taz's Keys to Victory. Taker; Use his big punches, use his experience, and get the chain first & Brock; Use his mat skills, channel his anger well, and get the chain first.
NoDQ, I Quit Match that Stephanie can also win with a Pinfall, and no one is allowed to interfere or they will be fired. If Stephanie loses she will be removed as GM but if Vince loses he will no longer be Owner of the WWE Match: Vince McMahon (w/Sable) vs. Stephanie McMahon (w/Linda McMahon)
Steph has this awful sparkles pants top old woman attire that doesn't show her cleavage, fuck this family. This was not as bad as expected, I mean it's no classic, but holy shit that Steph comeback even had me going. I'm not going to lie. Vince beating up his own daughter in front of his wife is hilarious. Taz and Cole do a really good job selling, especially when the led pipe become a factor. Shit even the crowd byes into this. I think if it wasn't for the wedding in 3 days Vince would have bladed worse than the Vengeance and Survivor Series match. Hell, Steph would have at last got a black eye for the good of the company. But instead we got a wrestling match
The match would end with Steph was being choked out by a lead pipe, and Linda threw in the towel giving Vince the win. Post-Match: Vince throws down Linda in the ring, and he leaves with Sable. **
John Cena vs. Kurt Angle
Cena cuts a pre-match rap, as he calls himself a prostitute with herpes. He then implies Kurt has a small dick. He then says Kurt new tee should say I don't suck, I swallow
Both guys are really over, it's 50/50 in terms of crowd support. This was such a vintage Kurt match. You can tell he pretty much laid the whole thing out. Started off with some mat wrestling in which Kurt as expected out classes him with his background and experience. I love that Cena realises that he could not win the wrestling so he baits Kurt into a fight, and that backfired on him hard. Cean would take over when he uses the quickness to dodges a shoulder block and Kurt goes right into the ring-post. Cena's heat segment was gold, this young Cena was so good when he would just stick to working on one body part, trying to get himself over while learning from the vets. Kurt doesn't sell shit during his comeback and the comeback was weak too, IDK if this is when the neck starts coming into play but he's not the same. The match breaks down as Kurt tries to German off the apron, but Cena counters and DDT's him on the apron instead. Cool, Cena uses this time to take a breather allowing Kurt to get back into the ring. Cena's moves now target the neck, which kinda make all the arm work look like weak filler stuff. Kurt is no selling everything, jesus. Until I swear Cena goes fuck this and straight up knees and kicking Kurt in the head and before killing him with a bucklebomb. FU gets two, as I should point out Cena's facial expressions are amazing. UGH! They kick out of each other's finishing moves as they hit it out of nowhere because why not. Cena tries to use the chain, but the ref catches him. But as he takes them away Cena had the medals and punches Kurt with them, that only gets two. Kurt counters the FU into a victory roll, before locking in the angle lock with the added leg lock and Cena is forced to tap. Even though Kurt barley worked the fuckin' leg C'MON! Match was pretty bad, Kurt's formula is terrible. **3/4
Jobbers Ravens are in the crowd after jobbing to the Bangles.
WWE U.S. Championship: The Big Show vs. Eddie Guerrero
Eddie's back is a mess, it's still red and you can see the cuts on the back still. The big gashes have plasters on them but i doubt those make a difference. Eddie wastes no time going right at Show. Show would quickly get the advantage doing the usual giant moves, chops, clubbing blows to the back and stepping on Eddie. Very uninspiring effort by Show, Eddie out smarts the ref as he throws a chair in the ring to distract him long enough for him to pull out a trash can lid to nail Show with it. Show gets pissed and murdered Eddie by throwing him back first into the ring post, the cut up back I might add which boy IDK how Eddie is even moving let along take a match with a 500lb man. Show pretty much beats the shit out him, so bad that some of the cuts on the back seem to have been opened up. The slow beatdown would end up killing off what had been a rabid crowd. Show's heat had been dissipating since earlier in the year and as over as Eddie was getting, a long, sluggish beating by Show was not enough to keep the crowd involved. Eddie would try to cheat his way to win and I thought he was going to after using the belt and hitting a Frog Splash, but Show stayed alive. The finish was anticlimactic as Show would just hit a simple Chokeslam for the win. Post-Match: Chavo comes down to help Uncle Eddie, but Eddie is too upset. Chavo tries to calm him down by saying they're still the tag champs. But Eddie is having none of it. RIP US Title. **1/2 - **3/4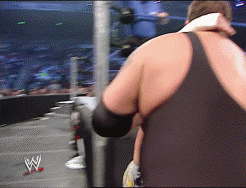 Backstage: Show cuts promo saying, he's a giant and nobody will be able to take this title away from him.
Biker Chain Match for the WWE Championship: The Undertaker vs. Brock Lesnar
Brock stalls early and does whatever he can do to not get punched by the best pure striker in wrestling history. Taker dominates, beating Brock in and around the ring until Taker takes that steel steps spot destroying his knee. Brock is so off here, he just wants to punch and kick. The whole match is I'll do some shit, then we brawl. Then you do some shit then we brawl again. I did love the first time Taker goes for the chain the light go out and Taker jumps down just encase. Late in the match, Taker would hook the triangle choke but in a neat spot, Brock hoisted him up and dropped him with a stiff powerbomb. The crowd was a bit sedated early but they picked up after a top rope chokeslam then when the FBI interfered as Taker fought them all off. He hits Brock with the Last Ride, and gets the chain, but Vince McMahon comes from the crowd to crotch Taker up top. Brock gets the chain, wraps it around his hand, and nails Taker with it for the win. Oh boy did these two take the night off; this might be the worse Taker/Brock match ever. It went on far too long like 10 minutes too long. I looked up the time and they got 24 minutes, which in a match based on a steel fuckin' chain is way too long. This was a utter mess, It was sloppy, boring and had no psychology whatsoever. Shit, they don't even do their big bumps, strike exchanges that they did on that dark match on SD. This could pass as some shitty Cleveland house show. This was No Mercy 2002 *3/4