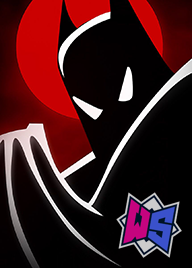 Dec 23, 2011
18,161
2,351
113
23
Event:
The Great American Bash - Join Our Party
Date:
June 27, 2004
Venue:
Norfolk Scope in Norfolk, Virginia
Attendance:
~6,500
Commentators:
Michael Cole & Tazz
WWE Champion:
Eddie Guerrero
WWE United States Champion:
John Cena
WWE Tag Team Champions:
The Dudley Boyz (Bubba Ray & D-Von Dudley)
WWE Cruiserweight Champion:
Rey Mysterio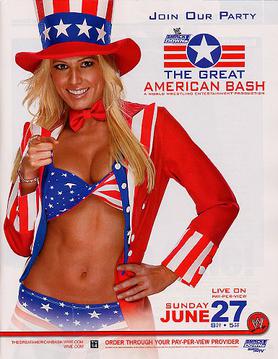 Pretty good video package showing the JBL/Eddie feud airs to start the show then it goes on to hype up the US title Fatal 4-Way and this dumbass concrete crypt match. It ends with the pledge of allegiance.
Torrie is in the ring wearing the same outfit only less slutty as the poster above and all she does is say its her pleasure to welcome us to the show. Time for the first
Great American Bash
in 4 years. Cole and Tazz hype up the concrete crypt on the stage and introduce the Spanish announce team before the first match starts.
Cena doesn't even have his spinner belt yet but he's wearing a Michael Vick jersey LOL. He's the first one out and says he hasn't rapped in awhile and gets the crowd all hyped up before doing a poem shitting on Angle bc he's feuding with him more than any other guy in this match. He says the only thing RVD is rolling are blunts and makes a GI Bro joke for Booker before shitting on Fifi and the French Tickler which are the only two things Rene has going for him, poor guy. Glad Cena stops the rapping soon, it was great to get him over and was still over af here but IMO had already gotten old.
Fatal 4-Way Elimination Match for the WWE United States Championship: John Cena (c) vs Booker T vs Rene Dupree (w/ Fifi) vs Rob Van Dam
All four brawl to start for like a minute that's pretty fun until they just start doing the two in, two out thing. Dupree sucks and Booker and RVD have next to no motivation so it's up to 04 Cena to try and pull this one out
Booker just starts watching from outside mostly so we literally just get two people wrestling in the ring and none of it is good. RVD/Dupree is the next pairing after Dupree takes out Cena. I forgot it was elimination so Booker's strategy ain't bad at all. RVD is able to hit a dive to the outside to take out Cena who just now got up and Dupree who he threw out there. Cena/RVD are in the ring now but RVD finally slides out of the ring and tells Booker to get his ass in there
So it's Cena/Booker and I'll never know why Smackdown liked this match-up so much in 2004. Dupree/Booker start an exchange and we get a French Tickler
Booker hits a spinebuster on Dupree and RVD hits a Frog Splash on him before taking out Cena on the top rope and then another Frog Splash on Booker. Cena then comes in and eliminates RVD with a roll-up. Rob Van Dam has been eliminated. Booker and Dupree double team Cena but argue over who gets to cover him even though it's fucking elimination WHO BOOKED THIS! Cena comes back and hits a FU on Dupree but Booker hits a Scissors Kick on Cena and pins Dupree first to eliminate the Frenchman. Rene Dupree has been eliminated. Cena kicks out a couple times now so Booker starts working over Cena's neck for a bit until Cena comes back and starts hitting his usual shit before pumping up his kicks, WOW I forgot he used to do that. They have a meh counter exchange before Cena counters a Scissors Kick and hits an F-U for the win. Alright I guess but the booking was pretty dumb.
Cena is walking backstage after the match when Charlie Haas and Jackie congratulate him so he hits on Jackie in front of Haas and walks off, then Angle wheels himself over and says he can't believe how far Haas has fallen since the Team Angle days
Angle books Haas against his new protege Luther Reigns NEXT! YAY for filler!
Sable is in a hot tub and says the Smackdown divas will be conducting interviews from here tonight and she's interviewing the biggest start of all...her. She says tonight she has a match against Torrie and she's gonna prove that no one looks better in red, white, and blue than her. Sable wrestling in 2004 smh
Charlie Haas (w/ Jackie Gayda) vs Luther Reigns (w/ Kurt Angle)
Haas still got the WGTT music, shit used to go so hard. I will say that Haas's selling is amazing here and makes Reigns's offense not look as terrible as it is. This gets 7 minutes though which is way too long for Reigns to just do basic power stuff. Angle says to hurry it up and Haas is able to make a comeback with a couple suplexes that are better than anything Reigns has done but then Haas runs shoulder first into the post allowing Reigns to hit his sweet neckbreaker finisher that I forgot about.
Backstage JBL says he guaranteed victory at
Judgment Day
and he did bc Eddie got himself disqualified on purpose to retain his title. But tonight there's no DQs and it's a bullrope match which is JBL's match bc he's from Texas. TODAY IS JBL'S VINDICATION! Man this gimmick was amazing. JBL not only guarantees victory tonight but that he will be the new WWE Champion.
WWE Cruiserweight Championship: Rey Mysterio (c) vs Chavo Guerrero
They give this 20 minutes bc they couldn't find more filler matches but I'm thankful for it. Chavo and Rey have had a lot of matches and I feel like they're all around this good, never amazing but always really solid and this is no different. They start with a much slower pace than usual with some pretty fun mat work. "Bring Back Chavo Classic" sign spotted
It speeds up and Mysterio is on fire, all his shit is spot on and they have some really fun counter exchanges. Mysterio starts working over the arm and Guerrero sells it pretty well before hitting this awesome springboard dropkick sending Mysterio falling to the floor from the top rope. Mysterio's knee hit hard so Guerrero instantly goes at that. This is almost some Naitch-like knee work by Guerrero, it's not bad at all. This drags a little due to the match length but Mysterio manages enough comeback attempts to keep it from getting boring. Also I gotta say I love Mysterio's selling and it's a genius strategy by Guerrero but limiting his flying hurts this match a little bc he's so good at it. Also Cole used to be so much worse at commentary he's like a different guy now than this loser. Mysterio finally makes a real comeback after Guerrero runs into the steel post and Mysterio hits a senton to the outside bc fuck his knee. They both end up on the top rope and kinda underwhelmingly just both go face first off of it in the middle of the ring. Mysterio selling his knee while doing his offense that almost entirely uses his legs is pretty impressive and he does it enough I'll forgive him for the few times he doesn't. Guerrero is able to hit a Sweet Gory Bomb out of nowhere but covers slow bc of his arm from earlier so Mysterio kicks out. Mysterio comes back with an enzuguri and a 619, but Guerrero reverses the West Coast Pop into a single leg crab that they work for awhile until Mysterio gets a rope break. Guerrero goes for another Gory Bomb but Mysterio reverses into a sunset flip bomb for the win
A bright spot on this terrible show for sure.
Torrie is in the interviewing hot tub with Spike Dudley, Billy Kidman and my boy Funaki. They start arguing about who's the better cruiserweight like anyone cares so Torrie stands up and says she has to get ready for her match and Kidman stares along with the other two at his then Wife's ass as if he isn't hitting it
Funaki says GOD BLESS AMERICA!
Billy Gunn vs Kenzo Suzuki (w/ Hiroko)
Suzuki's entrance with the dudes carrying him was cool, too bad he sucks in the ring. This is a rematch from last Smackdown bc Hiroku threw powder in Gunn's eyes so he won by DQ. This fucking sucks bro like it's bad. Gunn isn't shit in 2004 and Suzuki's ninja offense is hilariously bad. Also this is like the 3rd time tonight I've noticed a ref counting when someone's shoulders were obviously up. The crowd is so dead but anyway Suzuki just massages Gunn's shoulders and pretends it's a submission and mixes in some other terrible offense god why did you give this 8 minutes. Gunn has a terrible comeback but misses a Fame-asser and Suzuki completely whiffs on a Shining Wizard for a 2 count. Suzuki hits a terrible neckbreaker to win, fuck this.
Paul Heyman is backstage with Paul Bearer tied up and he says everyone thinks he's bluffing about murdering Bearer but he'll have no problem pulling the lever and filling Bearer's crypt with concrete. But Bearer won't have to worry about anything if Undertaker just does the right thing but then threatens to murder Bearer either way wow so what leverage does he really have over Taker then?
Sable vs Torrie Wilson
I'm surprised Sable is still here at this point but she is still looking better than I'd expect. This sucks as a match obviously though. They do all the usual catfight stuff which is fine but then they try to do wrestling exchanges and fuck up almost all of them
Torrie makes a face comeback that's pretty sloppy before they both run into each other head first and drop. Sable pretends to be hurt so Torrie just looks around until Sable botches a roll-up and gets the win with neither shoulder down
Bruh theme of the night is pins that shouldn't have been counted, that's just the first one that won a match.
Undertaker is in a dark hallway backstage WALKING!
Dawn Marie is standing in front of the interview hot tub with Rene Dupree who's pissed about the Fatal 4-Way earlier. He says he's gonna protest for a rematch and hits on Dawn and asks if she wants to see his French Tickler
The FBI come up and Nunzio says if she really wants to be impressed then to check out his FIFTEEN INCHES
She leaves with Nunzio like a thot and Johnny Stamboli says Dupree is like a size 6.
Hardcore Holly vs Mordecai
This Mordecai gimmick UGH! So these two brawled last Thursday on Smackdown and that's why I have to watch this match. If we're comparing filler matches this is a million times better than Suzuki/Gunn but probably not as good as Reigns/Haas but why do I act like you guys care about any of these dumbass matches. Anyway, there's some hate to this at least but Mordecai just sucks. They brawling ain't that bad bc they're fine with actually hitting each other but then Mordecai just does these boring rest holds until Holly makes a comeback but it doesn't last too long until Mordecai hits a sitout spinebuster for two. They go back and forth a bit more not doing too much until Mordecai hits a Crucifix Bomb for the win. Bruh fuck this PPV.
SummerSlam
live AUGUST 15! DESTINY!
Video package of the JBL/Eddie feud airs, one of the best parts of 04 Smackdown easily.
Texas Bullrope Match for the WWE Championship: Eddie Guerrero (c) vs John "Bradshaw" Layfield
Really hate the touch 4 corners rule for these matches as I'm sure you guys know by now, I just don't understand why they can't just have a No DQ match with them tied together bc the corner thing ruins all the heat. JBL takes advantage early using the cowbell as a weapon and as expected this is a fun brawl before they try and touch the corners. Guerrero tries to touch the corners earlier while JBL keeps using the rope as a weapon so that's a cool story starting. JBL strips both the Spanish and English announce tables but Guerrero fights back and they have a solid brawl where Guerrero ends up with a chair and kills JBL with it to bust him open, nice call back to
Judgment Day.
Guerrero hits him with it again in the ring and tries to touch the corners but JBL recovers before the 4th corner and they work it really fuckin well before they start over but Guerrero just can't pull JBL's dead weight to the fourth corner. This is honestly the best working of the 4 corner stipulation I've seen in one of these matches, the size difference makes it really fun. Guerrero is able to hit the Three Amigos and a Frog Splash but JBL smartly rolls out of the ring so he can't touch the 4th corner. Guerrero tries to pull JBL up but JBL catches him on the apron and FLINGS HIS ASS ONTO THE SPANISH ANNOUNCE TABLE THAT DOESN'T EVEN BREAK SICK BUMP
Since it didn't break JBL powerbombs Guerrero through it and Cole calls hit a spinebuster
JBL has an awesome desperation attempt at the fourth corner but Guerrero hits him with a low blow to stop the momentum. They both start touching the corners now and the ref makes a judgement call to leave them both at 3 while they work it and Guerrero finally lunges over JBL to touch the fourth corner to win BUT WAIT! Luther Reigns wheels Kurt Angle out and he says he needs to do the right thing so they replay the ending that shows JBL's back hit the corner first so JBL wins NEW CHAMPION!
JBL celebrates while pouring blood as Guerrero looks dejected af since his only title run is over
Another bright spot on this show though, definitely one of the better strap matches I've seen that didn't seem limited by the stipulation.
Video package of this Dudleys/Undertaker feud with the kidnapping of Paul Bearer and Heyman being an amazing b-movie horror villain. So Undertaker has been listening to Heyman the last few weeks bc they kidnapped Bearer and Heyman says if Undertaker doesn't do the right thing then here's what will happen and fills the crypt up to Heyman's ankles. Bubba says prove he's with them and lay down.
Handicap Concrete Crypt Match: The Dudley Boyz (Bubba Ray & D-Von Dudley) (w/ Paul Heyman) vs The Undertaker
Undertaker lays down and Bubba talks shit so Undertaker attacks them but Heyman distracts him saying that's not the right thing and we get a 2-on-1 brawl, bruh 04 Dudleys were ass at brawling and that's all they were ever good at really. Undertaker easily wrecks the tag team champions for the most part, they just do shit after distractions. Heyman pulls the lever again to stop Undertaker as Bearer yells that Undertaker will save him and "Damn you Paul Heyman"
The concrete keeps filling up as the Dudleys beat down Taker. Undertaker fights back and starts walking towards Heyman but the Dudleys attack him and Heyman pulls the lever anyway to kill Bearer. Bubba yells at Heyman to stop it and says they'll take care of Taker first. The cement is almost to Bearer's face now. They Dudleys continue the beatdown on Taker, it's not bad or anything it's just whatever. Undertaker makes his usual comeback of snake eyes and other signature stuff then takes out both Dudleys until D-Von catches him with a low blow the ref didn't see but IDK if there's DQs in this or not. Undertaker end sup sitting up as Heyman makes his way to ringside before hitting a Chokeslam on Bubba and a Tombstone on D-Von for the win.
Heyman says since Undertaker didn't do the right thing it's MURDER TIME! He goes to pull the lever but lightning strikes it and Heyman hilariously crawls away. Taker does his taunt in front of Bearer but then says he has no other choice and pulls the lever before telling Paul to REST IN PEACE! Undertaker kills his conscience in Bearer I guess was what they were going for but his character really doesn't change any so FUCK YEAH MURDER TO END A PPV!