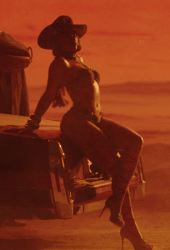 Wildheart

Joined

Feb 23, 2015
Messages

5,399
Reaction score

1,615
Points

113
Age

31
Location
Favorite Sports Team
You know I gotta first pay my respects to anyone on this forum over the years who have done any kind of Walkthrough, Review of a Movie, PPV or Show because I've found out myself how much hard work it is. It's hard to find time when you're working late hours to sit down for a couple of hours and do all of that, while trying to stay awake when your body is telling you go to bed. One of the main reasons why I wanted to do this and it might anyone discussing this with me outside a few members, it's that it is a passion project for me. After days of thinking about it, I thought yeah Power Rangers has been outside of Anime and Wrestling my favorite things to talk about. Anyone who knows I'm like a kid on Christmas morning if someone brings up Power Rangers in any regard. So here we are, I'm going to go through the first Season of Power Rangers and see where it goes from here if people want to see me talk about the next Seasons or go past Mighty Morphin and do other Seasons like Time Force etc.
Now to understand how Mighty Morphing started in American and without going way into you know Saban creating the show from the Sentai counterpart called Kyōryū Sentai Zyuranger, I just wanna say that Super Hero Time was created in 1975 with TV Asashi/Toei and today it still continues showing shows like Power Rangers and Kamen Rider which is another Show I've been watching as well and love it to death too. When it comes to Power Rangers it usually has a team of three of five protagonist with outfits to where they would transform or henshin to get their special powers against the forces of evil. Now alot of fans of Power Rangers don't understand that Super Sentai didn't start with Mighty Morphin, with the Show starting in the 70's their were already multiple teams and groups by the time Zyuranger came around in 1992. I think one of the Main reasons Saban picked this Seasons over previous ones, is due to the look of what the Suits look like. I mean I was into Dinosaurs and Mech Monsters as a kid, and Saban knew that kids would grab onto pretty fast, but I don't think he knew that the momentum PR got from Day 1, would be this high and last this long. With all that technical shit I told you about, it's time to watch Episode 1 of Mighty Morphin Power Rangers titled: Day of the Dumpster enjoy people.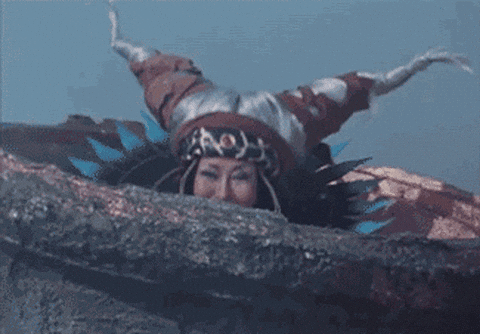 Day of the Dumpster Episode 1 aka this Helmet doesn't go well with my Hair.​
Can we say that Power Rangers had one of the best intro Musics of all time. I mean everytime I heard this Song as a kid, it made me want to kick some ass and let's be honest who didn't get into trouble with something involving Power Rangers back in the day hehe. I always find it funny how Rita came to Earth, two stupid ass Astronauts opening something mysterious which I know is pretty much a rule of Astronauts never to open something undefined in Space you numb skulls. We get opening shots of the what we would call the OG Rangers doing their thing and I remember watching as a young boy and yes I was like okay comedy that's cool, Martial Arts double awesome and who is the cutie doing the Gymnastic hmm? I always found it funny that yes the Show took place in LA with Earthquakes all the time it seems over there, it was kinda funny the Rangers that were picked, were most likely picked because they were the only ones who were picked and left in Ernie's Juice Bar because the rest of people left like a Bat outta hell outta the Building
After nearly ten minutes of the Episode Zordon would make his first team come together and he pretty much said to them you guys will fight the force of evil against Rita Repulsa, because the world will blow up, if you don't like were not going to let you leave because YOU'LL GIVE AWAY OUR SECRETS! I mean Zordon did let them leave, but what if the Rangers said no fuck off Zordon and didn't take the Morphers what would of Zordon done then, threw up the White Flag or what? As per typical Teenagers never listen to anything and they all left the Command Center and they are immediately attacked by the Putty Patrol which they kick those kids asses twice on Sunday style. After the Rangers come to their senses they need to use the Morphers they start to turn the tide and Rita quickly sends Goldar who in the Sentai version is amazing, which in the beginning Goldar was great and over time after they didn't have any Sentai footage for him, they turned him into a Comedy character poor guy. Quick little note Goldar has a kid with Scorpina and she is the Daughter of Rita on that Show, funny their kid didn't look like a Baboon but I digress. With the Rangers kicking ass, and finally using their Megazord Goldar had no choice to run back to his Slave Master Rita ending the fight. In the last few moments of Episode 1. Zordon would tell the Rangers the rules they would need to follow to stay as Rangers, and with that the Rangers would put their hands together in unison ready to take on the challenge, but poor kids this was just the beginning of what would be the fight of their lives.