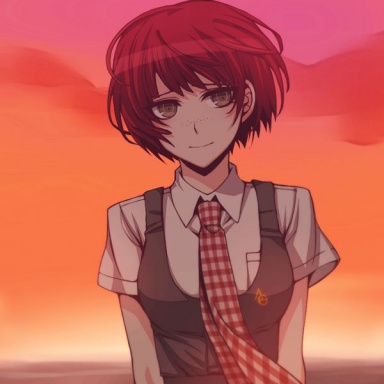 Thank you. For... finding me.

Joined

Apr 17, 2019
Messages

3,230
Reaction score

354
Points

83
Location
Favorite Wrestler
Final Resolution 2010
Sunday, December 7, 2010
Impact Zone - Orlando, FL​
Last PPV of the year, baby! Let's go! Right at the start, Miss Tessmacher comes out and proclaims that on the injured Mick's behalf, she ensured that
all
the matches are in order tonight.
Xplosion Pre-Show Match - Amazing Red d. Okada.
I saw a theory once that NJPW sent Okada to TNA not only for character work, but also to help him appreciate what he had (as they knew Russo would treat him like garbage). With that in mind, this is how I'm using Okada from now on: Don't want him to get too hot, so he still gets that sort of appreciation, but don't misuse him in a way that kills the TNA/NJPW relationship.
X Division Championship - Rob Van Dam (c) d. Max Buck d. Chris Sabin. RVD causes several situations where the two challengers are thrown to the outside - leaving the respective tag team partners to brawl for the assist! He could go for the crowd-pleasing high-flying offense he's known for, but he just... stands and mocks them! He doesn't even go for the 5-Star Frog Splash, instead pinning Sabin after a Rolling Thunder.
Knockouts Tag Team Championship - Mickie/ODB (c) vs. Madison/Angelina vs. Velvet/Tara - No Contest. The two bitter rivals Madison and Velvet get their barbs in at each other, and the match eventually devolves into an all-out brawl between the two, with Angelina and Tara also letting out their mutual frustration at each other for good measure. Mickie and ODB get an interview seg later in the show, with Mickie basically saying "This wasn't exactly how we wanted to defend the belts, but... sure?"
Tag Team Championship - Wrestling's Greatest Tag Team (c) d. Latin-American Xchange. Kurt gets physically involved a couple of times... hang on, aren't the MEM-aligned players supposed to be the faces? The crowd treats them that way, at least, but when Shelton scores the pin on Hernandez, Angle is nowhere to celebrate with them, having to take a call.
AJ Styles d. Matt Morgan. Give Styles a win, because I've got plans for him. He's wearing darker clothing. Think his Aces and 8's-era Evil Ways run, but less mopey. The giant Blueprint is felled after a couple of forearms and a Pele.
Feast or Fired - Mr. Anderson, Daniels, Bobby Fish, Shannon Moore d. Eric Young d. Samoa Joe d. James Storm d. Robert Roode d. Jeff Jarrett d. Bully Ray d. Adam Cole d. Kyle O'Reilly d. Jay Lethal d. Consequences Creed d. Rob Terry. Mr. Anderson gets the World Title shot, Daniels gets the X Division Title shot, Bobby Fish gets the Tag Team Title shot, and Shannon Moore is fired. (This is legit. I had nothing for this guy, even when Ink Inc was a thing.)
Knockouts Championship - Daffney (c) d. Sarita. Because after a chaotic Feast or Fired match you just need some good, mid-paced wrestling. Daffney successfully beats off Taylor Wilde, who attempts to cheat on Sarita's behalf, and wins with her Daff-Knees.
Television Championship - Devon (c) d. El Generico. Crowd is behind Generico over Devon, and naturally they boo when he's rolled over and mercilessly beaten on. But Devon isn't at all surprised with this... in fact, he has a sinister smile on his face. This is why I had to put this match on late.
World Heavyweight Championship - Sting (c) d. D'Angelo Dinero. Just before this match, Tessmacher comes out with an announcement - special guest referee, Kevin Nash! He'll apparently call this match down the middle, but he... gives a fast count to Sting? This match is cut short by that fact, but Sting and Kevin Nash give each other the nod and beat on Pope! Then the rest of MEM come out and beat on Pope too! Then the Originals come out... and just stand and watch. Pope is bloodied after a good few baseball bat strikes, and Jarrett gets the last word. "Let that be a lesson! Stay out of the main event, kid!" The MEM pose to a chorus of boos as the PPV fades out.
(if you think that was a hell of a turn, you should see the next PPV...)