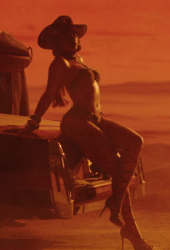 Victory Through Guts

Joined

Feb 23, 2015
Messages

6,859
Reaction score

1,968
Points

113
Age

32
Location
Favorite Sports Team
Favorite Sports Team
Favorite Sports Team
Favorite Sports Team
Deonna Purrazzo vs. Priscilla Kelly. Short and Solid between the two to start off this Episode. Some history I have with both ladies I've watched Deonna wrestle when she was coming up in ECWA and I was there when she won the Women's Championship and the ECWA Super 8 ChickFight Tournament as well for the promotion. Funny it's the same place I saw Ciampa for the first time way before ROH took an interest in him. When it comes to Kelly I saw her on that Gypsy Show with my Mother it's our thing, and her Dad is off the Wall crazy. I think it's a tale of two different talents here. You have Deonna with all the skills in the world and to me she lacks a character to stand out, and Kelly who doesn't have the skills in the Ring as her opponent, but she has a character that will get her noticed. I wish both of these ladies well in their careers and right Deonna is signed already so I look forward to what they do with her.
Zeuxis vs. Ariel Monroe. Horrible booking decision to put Zeuxis towards the next Round, because outside of the Spanish Fly she did she did nothing to warrant the win to be honest. Don't worry Monroe had a bright future to come with all that charisma and attitude she's perfect for the Main Roster. Ariel and Alexander's Daughter crying broke my heart
Kacy Catanzaro vs. Reina Gonzalez. Please WWE next year can you bring in some good Latina talent like for real. In my opinion that is something WWE is missing a top Latina Superstar and from this MYC it seems they are trying to find one they can groom. Thank goodness WWE told us Kacy has been Training and Wrestling for less than a year because she was lost out there once she got in her few spots. Rhea is going to end her party and I'm going to enjoy it in the next Round.
Mercedes Martinez vs. Ashley Rayne. Yeah something felt outta touch with this one to me, maybe it's due to people not really knowing Rayne and not really caring about her and what she was doing out there. I didn't feel they didn't work hard out, but nothing special when I thought the Main Event should end off with a bang. Meiko is going to enjoy breaking down Mercedes like if it was Street Fighter 2.