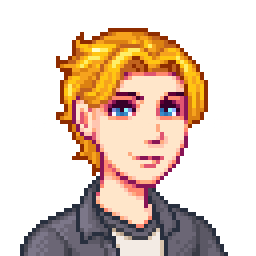 A Very Barry Mod

Mar 7, 2019
5,942
1,384
113
23
Apollo Justice: Ace Attorney
(Gyakuten Saiban 4)
​

Original Release Date:
April 12, 2007
Original Console:
Nintendo DS
Developer:
Capcom
Plot:
Seven years have passed; in that span of time, much has changed in the world of law. Apollo Justice is a rookie attorney on his first case, and his client? Phoenix Wright. In the seven years that have passed, Phoenix Wright was disbarred from being an Attorney and became a piano player and undefeated poker player. Now, he's once again a defendant in a murder case. Through Phoenix's help, as well as from Phoenix's daughter, Apollo discovers that it was his own mentor, Kristoph Gavin, who killed Shadi Smith, a wandering poker player, instead of Phoenix. However, the backstory behind Shadi, Phoenix, and Kristoph run back to that fateful court case seven years ago... Now working for Wright Anything Company, Apollo hopes to discover what exactly happened to Phoenix Wright and how he became the way he is today...
9/10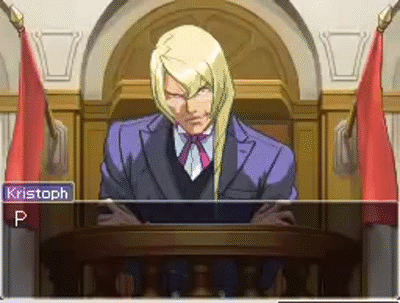 Gameplay:
Apollo Justice: Ace Attorney
is where the series begins it's trend downwards, and it's here that I will not be reviewing the series much afterwards, as I have not played any of the other games post-
Apollo
. Much of the gameplay features of the first three games remain unchanged, however, there are a few additions that could be considered "improvements" if you really want to try and justify it. The first of many additions is that of 3D item investigation. If anyone remembers "Rise From The Ashes" from
Phoenix Wright: Ace Attorney,
then this would not really be a shocker. However, this was the first game in the series to really explore the idea more, allowing for more variance and further fun in your investigation.
The second addition is use of the mic and actual investigative tools to discover evidence. In some parts of the game, you will be required to use the mic to blow into to help set up evidence. It's a neat little idea in theory but I've never been big on the DS gimmicks for the most part. If you're like me, it's a tedious addition that doesn't necessarily change up anything drastically, but just creates more to do.
Another piece added to the game was that of "Crime Recreation Mode" which allows the player to explore the crime scene as it was as it happened, to search for clues. It's a unique concept but isn't used to great effect in the game and unfortunately doesn't appear all that often. The best thing brought to
Apollo Justice
is its analog to the magatama of
Justice For All
and
Trials And Tribulations
: The Perceive System. Since Apollo himself does not carry a magatama, he cannot see Psyche-Locks themselves. Instead, he has his own way of telling when a witness is lying. The Perceive System allows Apollo to observe the witness and make note of their nervous tics and whatnot, like a poker tell. When considering this is the replacement for the Magatama, it's not a bad idea, in actuality and it's one of the things that makes Apollo more unique to Phoenix Wright.
Overall, there's not many big changes to the series and with a few additions here and there, the series starts to move further away from the pure visual novel storytelling that made the first three games unique and it starts to really become a proper detective game. Not that there's anything wrong with that, mind you, but some of these additions were not all that well implemented, making it tough to really say they made the Ace Attorney series better.
8/10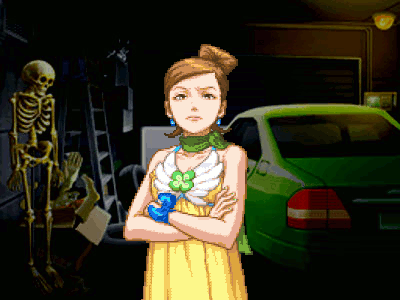 Visuals:
We continue with stellar visuals and incredible colors in the
Ace Attorney
series. Apollo Justice has some finely detailed sprite-work with many of the characters and the environments are gorgeous as usual. Even better are the cutscenes in-between cases, rendered in sketch-like art with incredible effect. It's some of the nicest looking character sprites in the series and my favorite is probably Trucy, seen below. More of the same, but still incredible.
9/10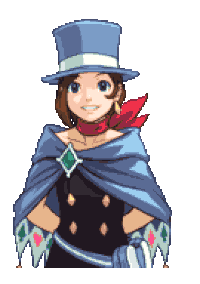 Audio:
Once again, more of the same from Capcom when it comes to good soundtracks for the
Ace Attorney
series. While not as great as the last three, there are still plenty of great tracks to have a listen to. I think "Cross Examination ~ Moderate 2007" "Trucy Wright ~ The Magic Girl" are the best in the game, but there are still plenty of other very good songs in here like, "Kitaki Family" and "Ema Skye ~ Scientific Detective".
8/10
TL/DR Thoughts:
Apollo Justice
is a good entry-point for newcomers of the series, it has some great storytelling throughout and you don't need prior knowledge of the series before hand to play it. However, it's frankly not as good as the original Trilogy, but is a fun romp in the world of
Ace Attorney
.
Final Grade:
8.5/10