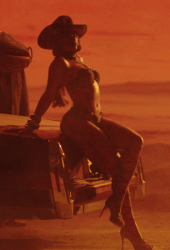 Feb 23, 2015
3,454
923
113
31
"You want me to break the silence on that? I don't like getting in verbal spats with people who I don't think are worth my time or my effort and a dude in particular is Vince Russo. This cat, I don't have a problem with Vince Russo. When he left I just told him, it is what it is. He always had 22 million reasons for making the decisions that he made. But when Hogan and Bischoff came in they said, 'Oh we have this great idea. We are going to do this thing and take you off of TV and re-brand you. Do all this other stuff. We do this kidnapping thing and you come back as a psychopath.' I was cool with it.

I sat at home for 3 months on a b---hing ass vacation. I had one of the best vacations in the history of vacations. Paid vacation. Getting ready so I call them back week after week, 'What do you guys need me to do'. They would say 'We are still coming up with something'. Vince Russo with his infinite ridiculousness just said, we are short on babyfaces. So I get a call saying, 'Joe we need to bring you back to TV.'

So I asked him, how is it that you are going to bring me back. He said, I don't know how just yet but we need to bring you in. So the dude couldn't write his way out of a kidnapping. The only reason why I bring this up is because he has the audacity to blame all of his silliness on other people. And by the way wrestlers, pro wrestlers all over the world and people in the business, stop whoring yourself out to shoot interviews. This man couldn't write his way out of a kidnapping. That's how much respect he had for the product, how much respect he had for the fans and that is indicative of his style of what he did. He was the head writer at the time and this is the way he felt that was admissible. Now I know this little b---h is going to go back on a shoot and talk all of this s--t."
So WrestlingInc broke the show of Joe talking about the kidnapping that took place on Impact many moons ago. IT's pretty sad and depressing to hear this, we kinda knew, but how do you do something like that to one of your most popular guys and not have the light of the end of the Tunnel for it? I remember when Joe came back he was more vicious, but it wasn't the Joe we wanted and remembered from before. I swear wasn't it too long before Joe joined the Main Event Mafia?​