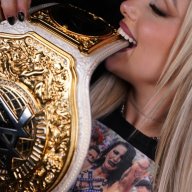 Jun 28, 2010
49,481
2,506
113
32
Hope Randy hits him with a punt and pins his ass, lol. Troll em Vince! Put New Day on the Pre Show battle royal!
The hell your problem with Kofi and the New Day? Jesus Kofi needs that win.
I'm all for Kofi getting that spot. He's over enough for it, but man I can't lie. I'd fucking die laughing if Vince trolls the fans this entire Mana season and Kofi still wins up in the Kickoff battle royal.