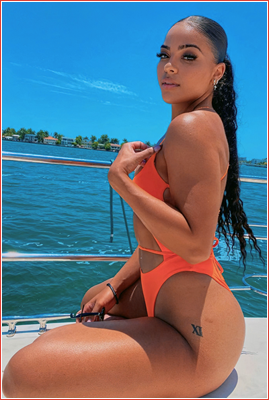 8+24=81

Joined

Dec 3, 2010
Messages

55,346
Reaction score

9,149
Points

115
Location
Favorite Wrestler
ECW World Heavyweight Champion: Raven
ECW Television Champion: Shane Douglas
ECW Tag Team Champions: The Eliminators
ECW Hardcore TV: Episode 194
January 9th, 1997
Webster, Massachusetts
The show opens with a video recap of Terry Funk making his return November 2 Remember. He's making this one more run
The intro video package is cut-off mid way through by a b.W.o intro
Axl Rotten vs. Stevie Richards (w/b.W.o)
After Axl's entrance, Joey gives us a rundown of what's gonna be on tonight's show. I won't tell you because it will spoil all the fun. This wasn't bad but wasn't good at the same time. Very ECW squash-ish if that makes sense. Axl did some moves and never really focused on a body part and Stevie tried to target Axl's dick. I did like that they kinda towards to end built the story around the Stevie kick and Axl avoiding it at all cost so when Stevie did end up hitting it, it got a nice pop and the win. Post-Match: the b.W.o celebrate.**
Joey Styles explains to us that apparently Taz's shoulder might be injured but we don't know for sure. He shows some evidence, such as him favoring the shoulder after the match with Van Dam. He then refused to compete in the King of the Hill Battle Royal, and then apparently at this show in Massachusetts, he refused to compete and picked Chris Candido as his replacement.
We cut to footage of Buh Buh beating up D-Von and hitting him with the Buh Buh Cutta. Francine wearing this short low cut slut dress (side note, Francine might be underrated. Not just in looks but her body is pretty great. Great rack and nipple always sticking out DEAD) footage of Dreamer/Douglas and Eliminators vs. Buh Buh /Spike air.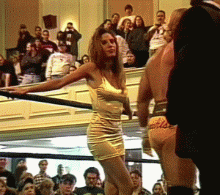 Joey Styles shows us footage of Killer Kowalski presented The Eliminators with the new ECW Tag Team Championship belts.
Joel Gertner YES!!!!! He gives us some sleazy lines before introducing Chris Candido. He cuts a promo on his past with Louie in the WWF, but here it's different. Before it was fun and games, and he should've just taken the licks he got from him and moved on. But now he cost Candido another win after just getting to ECW, and it's personal. NO GIMMICKS NEEDED.
Clips air of the b.W.o being eliminated by Brian Lee. Joey also tells us that Brian Lee is paid by Raven, but he's also paid by Shane Douglas, which shows how in demand he is.
Brian Lee vs. Hollywood Nova (b.W.o)
Before the match; Stevie applauds Brian Lee. He gets on the mic and says they're boys, the two of them, and the battle royal was every man for himself, so he forgives him for eliminating all of the Blue World Order. Stevie says Brian knows his roots are with Raven's Nest, as he's Raven's hitman, and they're also in the Nest. He says they're all friends, and if he wants, he can even join the BWO! He says to think about it. BLUEDOZER. Brian Lee wins with the Chokeslam in 30 seconds.
Joey Styles goes to interview Killer Kowalski, but Brian Lee interrupts by choking him out and saying Terry Funk is next because he is the……Legend Killer smh
Backstage: The Eliminators are pissed because Brian Lee took out a 74 year old man, who is their mentor. He says he was sending a message, and they've intercepted the message, and now he and Candido have a Boston style ass whipping coming their way.
Raven is in the ring with a mic, he calls out the Sandman. He says he's a better man that's why his wife left him. He's also a better farther that's why his kid left him and he's a better wrestler that's why he's the world champion. Well, Sandman waste no time and they brawl for a while. Sandman gets the better or Raven even busting him open with punches. Raven eventually outsmarts him which wasn't that hard to do, as instead of him getting up and walking into punches he just sits in the corner so when Sandman comes charging in Raven low blows him. Raven gets his belt, and hits Sandman with it, busting him open now. He says that's his belt and keeps slamming his face into it on the mat. They have a brawl all over the arena, and Raven throws Sandman into the b.W.o locker room. Raven tries to run back to the ring to get his belt, but Sandman catches him, now in a b.W.o shirt. They get back to the ring and trade punches on their knees, until both men collapse

The show ends with Joey Styles wondering how Sandman got the b.W.o shirt.