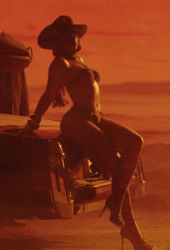 Wildheart

Joined

Feb 23, 2015
Messages

5,808
Reaction score

1,715
Points

113
Age

32
Location
Favorite Sports Team
I've been wondering for the longest time from others, what can you deal with more a Sequel to a film or a Prequel. Now over the years we've seen plenty of films dive into either side of the Coin especially Star Wars and people are divided on whether they were great films or not. I mean when it comes to the Prequel aspect I love them if done in the right and I can say that the Prequels for Star Wars I love them. It gave me alot more lore into the franchise and yeah it does have it's problems in Episodes 1 through 3, and Rogue One is a treasure to this point but overall I love them.

Now I can say positives about that franchise when it comes to the Prequels, but I can't give the same respect to let's say to the Hobbit/Lord of the Ring franchise. I mean I love Lord of the Rings and a year ago I read all the Books for the first time, and to me the Hobbit films had their moments, but I feel like some of the films didn't hit that Home Run like that was done in the Lord of the Ring books. I hope that Series gets the taste outta my mouth, because the last film in the Hobbit film had me shaking my head.

When it comes to the Sequel we've seen Movies come back with a Sequel and fall flat on their asses because they thought the magic that was captured in their first film, that it was going to happen in the Sequel many years later. I'm talking about Dumb and Dumber as just as an example, the first film was fucking great, but many years later the Sequel was no where near the greatness of that Comedy from 1994. It's a touchy situation because I just named a film that wasn't good from their Sequel even with the time lapse, but two films that that wasn't the problem was Terminator 2 and Godfather Part 2. Both Terminator 2 and Godfather Part 2 in my opinion are better films than their previous films and they got everything right and took it to the next level. So with that my questions our as follows: which can you handle better when it comes to Movie watching a Prequel or Sequel, and your thoughts on Prequels an Sequels over the years when it comes to Movies especially.