Well-Known Member

Aug 6, 2010
13,103
318
83

To mark Raw's 25th year as a show throughout this year I will be reviewing random episodes from the show's 25 years on the air. My choices won't be in order of them airing, and I won't pick episodes that I know to be great (besides one or two things I know about the episode). The point is its a random viewing experience. I should have a review up per week most weeks. And I will rank the episodes come the end.
WWE Raw February 3rd, 2003 Edition: 506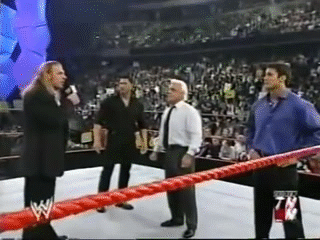 W
ith three weeks until the No Way Out Pay per view Raw GM Eric Bischoff steps up his game to save his job by heading off to Texas to talk Stone Cold into returning and signing with Raw. He leaves Chief Morley (Aka Val Venis) in charge for the night.
Cue one of the best Raw intro themes!
The show comes live from Washington DC. We open with Test and Stacey coming to the ring. Two weeks on from Stacey getting injured by a Chris Jericho chair she has returned and would like Y2J to say sorry for his 'accident'. Test acting just as heelish as Jericho is more forceful, and demands he says sorry to Stacey. As is typical Y2J he is too concerned with himself and talking about his number one contenders main event with Scott Steiner. Christian blind sides the faces, before Test recovers to clear the ring and decides its best if he and Stacey leaves the arena.
Chief Morley's first act of the night is to book odd couple tag partners RVD and Kane in a singles match later on. The highlight of this segment is Van Dam's Spiderman quip at Kane.
Three Minute Warning
VS. The Dudley Boyz
Three Minute Warning upset The Dudley Boyz in a match that barely went past the one minute mark after a fast count from special ref Rico (Chief Morley appointed). Post match Spike Dudley runs in to even up the fight. Rico ends up tasting the wood! No rating for this one.
Back in Texas Easy E gets lost on the highway and his usless limo driver is struggling to find the right place. I love this guy with his little torch and the map
Tommy Dreamer is supposed to wrestle, but Triple H has other plans. In fact he has an Evolution to start! This is the group's official debut. Hunter cuts a decent heel promo hyping up each member of the group and future plans. For the record Ric Flair, Randy Orton and Batista make up the rest of the stable. The highlight of the promo is the line, "
Evolution has just past you by
" that was one sweet heel line!
The crowd heat is pretty good for this segment. The heels take their place in a skybox to watch the rest of the show.
Bischoff hits a dead end at Stone Cold's house in Texas. It turns out the Rattle Snake isn't home, and instead can be found at drinking Saloon 'The Longhorn'. Eric is getting slightly miffed sensing he might be getting the run around.
Victoria (W/Stevie Richards) VS. Molly Holly
J.R. hits two peaches at the start of this match. First when talking about Trish claiming that she's "Canada's finest export"
and even better describing Molly as being dressed for Fleetwood Mac concert
Now that is comedy! The match itself was very basic. It was solid for what it was, but very one sided with Molly being used in the jobber's role. It was two short for them to really do much. Victoria goes over with the Widow's Peak at the second attempt. Post match-Jazz builds her monster heel momentum by destroying Molly, and standing up to Victoria, who wisely decides to fight another day. **
Goldust decides that he is holding Booker T back, so decides that if they fail to win the tag belts back tonight that they go their separate ways.
Tag Team Championship match: Lance Storm and William Regal (c) VS. Goldust and Booker T

The exchanges between Booker and Storm are really smooth (reminds me of their fantastic WCW match in the UK in 2000). The challengers have spark and the crowd are into what turns out to be an enjoyable match for the length given. Storm scores the win with a leaping kick after Goldust miss cues and butts heads with his own partner. Booker and Goldie have an emotional parting of the ways. ***
At the Longhorn Bar Eric first asks for a Material then "
A gray goose with a twist"
What makes that even better is that we all know the real Easy E would be drowning in cold ones Stone Cold style

This is a very realistic and enjoyable segment. BTW Bruce Pritchard said on the Bischoff edition of "Something to Wrestle with" that these were real locations in Texas and that they filmed real punters for the skits. It turns out Eric has once again missed Austin who has moved on to the next drinking establishment
Kane VS. Rob Van Dam
The contrast in styles between these two just click for a fun match with a good flow and some nice high spots. RVD heels it up nicely, and I enjoyed Kane's clothesline off the top! The finish was a bit cheap ending in a DQ for RVD when Jeff Hardy (trying to make a name for himself?) attacks Van Dam as he looks to his the Five star frog splash. The two reunite teach young Jeff a lesson post match. ***
Post-break Shawn Michaels makes a surprise appearance giving Jeff Hardy (still in the ring) some advice about thinking before acting, and about finding his true identity. HBK references his past as a rookie and the famous heel turn on Marty. But Jeff once again goes the hot head route and takes some sweet chin music as a result. This was a effective segment.
Maven VS. D-Lo Brown (Teddy Long)
D-Lo wins a lifeless match with his sitout powerbomb. His new heel character is struggling to connect, despite Teddy asking the crowd to be "
Down with the Brown"
*

With the main event coming up HHH says he has plans for the match. Which is funny, because Evolution don't get involved in the match..

In Texas for the final time, Eric once again misses out on Stone Cold. Instead he loses it with a local who claims that Austin won't sign for him, and as a result next week Mr. Macmahon will fire Bischoff. The segment ends with Eric smashing the guy with a pint glass. These segments were great fun.
A dejected Goldust is brutally attacked by Batista and Orton and ran into a powerbox electrocuting him in the process.. Em.. Shocking?:fp:
Number One Contenders Main Event for the World Title Chris Jericho VS. Scott Steiner
In a running theme of the night (see Test at the start), the face in this one Steiner is acting just as heelish as the actual heel Y2J (at least with Test they were building for a heel turn later). This is another one sided and predictable match. Jericho does his best, but at this point Steiner is a shadow of his former self and lost cast. Over course Steiner goes over in a match that didn't linger long in the memory. **
Mr. Macmahon ends the show telling Morley that next week he will in fact fire both him and Bischoff (but might there be a twist in the tail?...).
Story of the Night: Highs and Lows
Highs:
1.
Easy E steps up his game to try and save his job by hunting down a rattle snake in Texas, but instead finds himself butting heads like a fish out of water with the locals.
2.
Evolution officially transform into the 4 Horsemen Circa 2003 in an impressive segment.
The compelling Booker T/Goldust partnership gets a fitting send-off, but with a dark twist for Goldie.
3.
Kane and RVD steal the show in the ring, and come together to teach Jeff Hardy a lesson. In a nice cameo HBK follows suit.
Lows:
1.
Another rushed Ladies match (though the build for Jazz is working quite nicely).
2.
D-Lo's new heel character stutters and Maven still has much to learn.
3.
The main event proves a non-event.
Match of the Night:
RVD VS. Kane
Worse Match of the Night:
Maven VS. D-Lo Brown
Segment/Angle of the night:
Bischoff at the Longhorn Bar in Texas (but I loved the whole thing).
Verdict:
Some strong matches in the second half of the show along with the Evolution and Bischoff segments made this a very watchable Raw which kept things bubbling nicely. A solid show if not anything great.
Grade:
C+
Next Week...
I jump back a decade to the May 17, 1993 Edition of Raw, which includes one of the biggest upsets in WWF/E history and a surprise challenger for IC Champion Shawn Michaels.