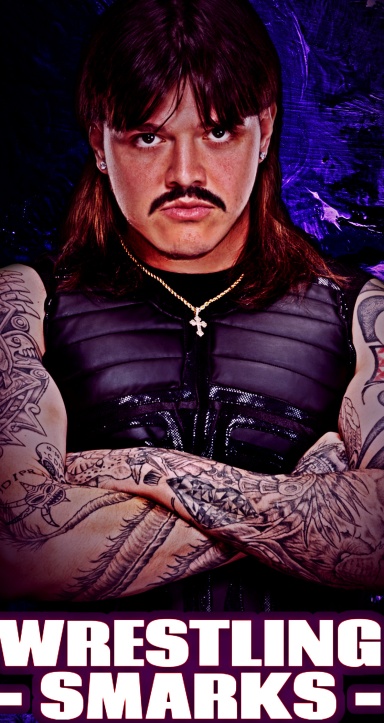 aka Jimmy King

Joined

Dec 12, 2010
Messages

2,916
Reaction score

1,252
Points

113
Age

34
Location
Favorite Wrestler
Favorite Wrestler
Favorite Wrestler
Favorite Wrestler
Favorite Wrestler
Favorite Wrestler
Favorite Sports Team
The show opens up with GM Shane McMahon in the ring along with Seth Rollins as the crowd showers them in boos. He announces that at Deadly Disaster history was made, and that we saw the dawning of a new era...The Corporate Era! First he introduces Sami Callihan, who comes out in all black as the crowd continues their booing now directed at Sami. As Sami enters the ring he embraces both Shane and Seth before he speaks. Sami says what he did to Drake was a long time coming and it had to be done because Drake was holding him back, and now that he's apart of a real family in The Corporation. He also announces that Sami Callihan is dead and now he'll be known as Solomon Crowe.

Shane then says the next man needs no introduction...

[video=youtube;L0arZ2FW0C8]http://www.youtube.com/watch?v=L0arZ2FW0C8[/video]

As his music hits the boos intensify and get louder than before as John Cena steps out wearing the GCW World Heavyweight Championship around his waist. Before entering the ring he walks over to the commentary table to give Vince McMahon a hug, and then once inside he hugs his Corporation stablemates before taking the microphone to speak. The crowd refuses to let him speak as the boos are getting very loud, and Cena just smiles and laughs.

"I thought you all wanted this. I would have thought that you would be happy about what I did because it's what all of you ever wanted. You begged and pleaded for it whether it be on the internet behind your keyboards, or in the arenas by letting me hear it each and every night. Now, that it's actually happened...you still hate on me? You see that's the problem with you all. You're nothing but a fickle, hypocritical bunch that will never be happy with what they get."

The crowd is silent now as Cena continues to speak.

"It doesn't matter though because I didn't do it for any of you. No, I did it for myself. I gave each and every one of you people my all each night I came out to this ring, and all you ever did was boo me. I did all those Make A Wishes, yet still I get hated on. No matter what I could never please you, so the way I see it I don't owe any of you a damn thing and you can all kiss my ass!"

The infuriates the crowd even more.

"AJ Styles learned the hard way about Hustle, Loyalty, and Respect. He also learned his place in this world and in this company that as long as I'm around there will never be another...CHAMP!"

His music plays once more as he leaves the ring with the rest of The Corporate team when the show cuts to a break.

------------------------------------------------------------------------------------------

Back from break a rematch takes place between The Hollywood Blondes 2.0 and Ballroom Fever. It ends again in the same fashion with Ziggler and Breeze picking up the win while Disco and Fandango continue to have problems. After the match backstage Ziggler says that he and Tyler don't want to wait, and want a shot at the tag team titles. Tyler then says that they are the only team that matters, and not The Usos or Mistic Dragons. Then the tag team champions appear and attack Breeze and Ziggler until it has to be broken up.

Later on The Rock comes out with his Dad, and goes on about his victory over Don Muraco. Then he says he's ready for a bigger challenge, but he knows that before he can get that challenge he needs to earn it. He issues a challenge to none other than AJ Styles, and says that if AJ wants to fight a real man and not some punk ass corporate fruity pebble then The Rock will be more than happy to take him on when AJ is ready and recovered.

Next up is more tag team action as The Usos take on Mistic Dragons in what was a high flying, back and forth match that saw both teams giving their best. It looked The Usos were ready to put away Mistico when Faces of Fear and Samu appear on the big screen standing over a bloody and beaten Rikishi. This distracts both Usos, and it's enough to allow Mistico to catch Jimmy Uso from behind with a roll up. After the match both Usos rush to the back to the aid of their father while Mistic Dragons celebrate their win until the arena goes dark, and when the lights come back on they are both laid out as Harper and Rowan stand over them holding the tag titles.

Backstage Jimmy and Jey find their father still a beaten, bloody mess. Before they can tend to him they are blindsided by both Faces of Fear and Samu, and they also get laid out next to their father as Captain Lou checks on the three telling the other three to leave.

In singles action Akio Tozawa took on La Parka, but it ended in a no DQ after Juventud got involved and he along with La Parka double teamed Akira until Funaki made the save.

Backstage we see newly signed talent, D'lo Brown with his manager Teddy Long. They are discussing something when they are interrupted by Sylvester Lefort and his newly acquired client, Scott Norton. Sylvester and Teddy make a gentlemen's bet on who the better man is and their clients will take each on next week.

More newly acquired talent in the form of Homicide and Hernandez, make quick work of CJ Parker and Adam Rose after Rose just wanted to party, and left CJ high and dry to take the loss. After the match Homicide and Hernandez along with Selinas, make an open challenge to any team who thinks that they can take on LAX. They are introduced to Cryme Tyme! JTG and Shad play up the crowd a bit before accepting the challenge.

In women's action we see Paige take on Candice LeRae and Bailey in a triple threat to crown a new number one contender for Mickie James' title. It was a hard fought battle between the three ladies, but in the Bailey was able to pick up the win after catching her friend Candice with a roll up. After the match the two shook hands while Paige looked on with outrage. Then Mickie James makes an appearance and simply nods her head in approval as Bailey watches on.

In the main event we Drake Younger, still beaten and battered from Deadly Disaster, take on Corporate team member Seth Rollins. A pretty solid match from the get go with Seth dominating most of it until Drake starts to mount a comeback that doesn't last long as Solomon Crowe interferes and helps Seth double team Drake...

[video=youtube;ON_BqmOCXQY]https://www.youtube.com/watch?v=ON_BqmOCXQY[/video]

The familiar theme song hits and the crowd goes nuts as Raven is now in GCW! He makes a beeline for the ring and with ease he takes out both Solomon and Seth sending them packing while the crowd is still going crazy for Raven, who checks on Drake Younger while Solomon and Seth watch on from the outside angry and frustrated as the show comes to a close.