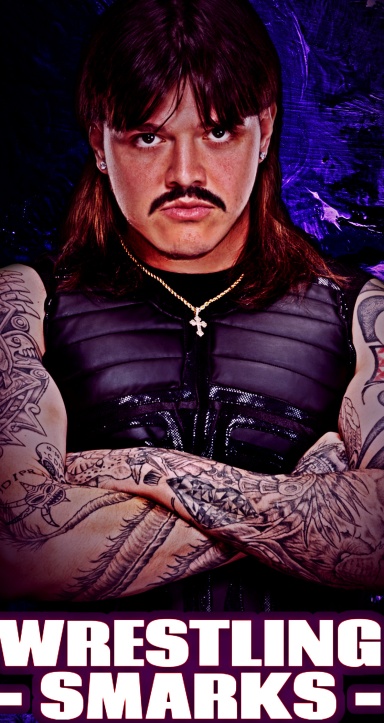 aka Jimmy King

Joined

Dec 12, 2010
Messages

2,916
Reaction score

1,252
Points

113
Age

34
Location
Favorite Wrestler
Favorite Wrestler
Favorite Wrestler
Favorite Wrestler
Favorite Wrestler
Favorite Wrestler
Favorite Sports Team
The show kicks off with Raven and his Flock in the ring. Raven starts off by saying that Drake Younger is not in the building because he's at home still nursing his injuries from his match at Aces High with Solomon Crowe. Raven states that what happened at Aces High was a low point for The Flock, and he can't allow that to happen again. Then out of nowhere he hits Baron Corbin with the microphone causing a loud thud to echo through the arena, and Corbin drops to the mat in an instant as the crowd begins to shower Raven in boos. Raven yells at Corbin saying that he will not tolerate failure in his Flock while Harper and Rowan hold up Corbin before Raven plants him with an Evenflow DDT and then spits on Corbin before leaving with Harper and Rowan as the crowd continues to boo.
Opening match is Vader taking on Funaki, and the big man makes very quick work of the much smaller Funaki in about 2 minutes after finishing him off with a Vader bomb. Then Vader continues this assault on Funaki until Akira Tozawa comes to his friend's aid, but he pays dearly for it and he eats a Vader bomb as well. Vader still continues this assault on both helpless men when...
[video=youtube;gF8R7OjArSc]https://www.youtube.com/watch?v=gF8R7OjArSc[/video]
Mark Henry makes a beeline for the ring, and Vader hightails it out of the ring as the crowd boos him for his cowardly ways.
Bo Dallas makes his debut against CJ Parker, and makes quick work of the hippie after locking him in an ankle lock submission, and Bo tells CJ to just BOLIEVE and not to give up while trapped in the ankle lock, but the pain is too much for CJ and he submits. After the match Bo does his victory lap around the ring while his music plays, and then back in the ring Bo helps CJ up and tells him that he did good and that maybe one day he'll be just as good as Bo if he just BOLIEVES! CJ doesn't like that and slaps Bo, and Bo returns that with a running Bo-Dog! Then Bo tells the crowd not to be like CJ and that they should just BOLIEVE in themselves and they can be just like him when suddenly...
[video=youtube;FNh2UZL6umw]https://www.youtube.com/watch?v=FNh2UZL6umw[/video]
DDP makes his way out to the ring as the crowd wild for him, and in the ring Bo has that same goofy grin on his face and goes to shake DDP's hand but instead DDP greets him with a Diamond Cutter! Then DDP leaves again to a nice pop from the crowd for putting an end to Bo's charade.
[video=youtube;QSKGc9lemp0]https://www.youtube.com/watch?v=QSKGc9lemp0[/video]
Damien Sandow makes his GCW debut and before the match he states that here's to bring back intelligence to GCW, and that tonight it starts with Disco Inferno. He tells Disco that he's nothing more than buffoon, and a Saturday Night Fever reject and that he plans to put an end to Disco before he continues to be a mockery to this great sport. Sandow then wrestles Disco to a decent match that ends with Sandow putting Disco away with the You're Welcome. Afterwards Sandow tells the audience that as their Intellectual Savior that he did this for them, and ends with saying "YOU'RE WELCOME!"
Next up is tag team action as Cryme Tyme takes on LAX in a rematch from their match at Aces High. It looks like that Cryme Tyme is about to win when they are distracted by MVP and "The Pope" D'Angelo Dinero walking down the ramp, and Homicide catches Shad with a quick roll up for the win. Then MVP and Pope enter the ring, and take out both Shad and JTG saying that nobody wants to see no wannabe thugs and that The Players Club is taking over.
More tag team action as The Hollys take on The Hollywood Blondes 2.0, and The Hollys defeat The Blondes in about 8 minutes after Hardcore plants Dolph with a Alabama Slam. Afterwards, Tyler Breeze looks at Dolph in disgust before leaving Dolph in the ring alone, who looks confused as he comes to.
Backstage we find "Mean" Gene interviewing Mark Henry, and Mark says that he's sick and tired of bullies like Scott Norton and Vader pushing other people around. He then tells them that if they wanna fight then they should pick on someone their own size, then out of nowhere Vader blindsides Henry and then throws him into the steel backdrop.
Next up is supposed to be Mark Henry vs Scott Norton, but Henry is unable to make the match due to the attack by Vader earlier. Norton is about to declare himself the winner when...
[video=youtube;kRXYBZ7eGXs]https://www.youtube.com/watch?v=kRXYBZ7eGXs[/video]
Roman Reigns steps out through the crowd and says that if Norton is looking for a fight then no look no further. The two then have a match which ends with Roman defeating Norton after hitting him with a Superman punch.
[video=youtube;5Mr7iZpQ96Y]https://www.youtube.com/watch?v=5Mr7iZpQ96Y[/video]

IT'S SANTA CLAUSE! He bears an uncanny resemblance to a certain Hardcore legend, but it surely can't be him, can it? Anyways Jolly Old Saint Mick...I mean Nick is handing out presents and candy to the children in the crowd. Santa gets in the ring, and tells everyone that he hopes everyone has been a good little boy and girl this year because he's got a list that he's checking twice, and begins to do his "HO HO HO!" laugh when suddenly the lights go out then...
[video=youtube;sye6OOhSeDo]https://www.youtube.com/watch?v=sye6OOhSeDo[/video]
Solomon Crowe makes his way out to the ring and the crowd drowns him in boos for interrupting the jolly old fat man. Crowe is in the ring and Santa asks him if he's been a good little boy this year. Solomon says "Cut the crap Mick", and Santa looks confused asking who this Mick person is. Then Solomon tells him that looked up to him growing up, that Mick was his idol but now he's nothing more than a joke trying to pass himself off as a mall santa. Then out of nowhere Solomon blasts Santa with a hard right hand, and begins to pummel beat him down knocking off his beard and hat revealing Mick Foley underneath the get up (obviously). Then Solomon lays out Mick with a headlock driver, and tells the audience that Christmas is cancelled this year because Santa is dead. He leaves as his music plays while the audience boos, and young children in the audience cry.
La Parka defeats Ultimo Dragon in about 6 minutes to retain his title. Afterwards La Parka dances over Ultimo's body much to the dismay of the crowd.
AJ Lee teams up with Candice LeRae to take on Paige and Mickie James. AJ and Candice defeat them after AJ catches Paige with a roll up when Mickie ditches Paige.
Backstage AJ Styles is being interviewed by "Mean" Gene when he's interrupted by Seth Rollins. Rollins tells Styles that he's nothing more than a laughing stock now that he can't defeat John Cena. Then The Rock appears staring down Rollins, and tells him that if he thinks it's so funny then why doesn't take on The Rock or AJ in the ring right now. Rollins says he'll pass, and Rock says that's the smartest thing he's ever done because The Rock would've layed the smack down on his candy ass. Rollins leaves and Rock turns to AJ telling him that it was a good match at Aces High, and shakes AJ's hand showing some mutual respect and AJ returns the gesture.
In the ring John Cena is out there saying that it's cute that AJ and Rock respect each other so much even after they both got embarrassed by him at Aces High. The crowd boos him and he tells them that they're clearly jealous of him and his abilities because he single handedly beat both AJ Styles and The Rock, and then he went home and made love to the most beautiful woman in the world, Nikki Bella. The crowd boos even more and Cena says tells them not to be jealous just because they can't get a woman as hot as her, and then tells them all to shove it and accept the fact that there's no one that can beat him because he's beaten everyone...
[video=youtube;sRzN6phUucs]https://www.youtube.com/watch?v=sRzN6phUucs[/video]
It's Ricky "The Dragon" Steamboat! The crowd goes insane as the legend makes his way to the ring as Cena looks on in shock. Once in the ring Steamboat says that Cena hasn't beaten him, and that if he thinks he really is the best then why doesn't he back it up and take on Steamboat at Full Force. Cena says he'll think about it, and then turns around only to attempt a blindside attack on Steamboat, but the veteran counters and begins trading blows with Cena before sending him over the ropes with a clothesline. Then Steamboat's music plays some more as Cena leaves with his title looking irate while the crowd cheers on Steamboat as the show comes to a close.
​